Happy Songkran Thai New Year Water Festival from Koh Samui Events. These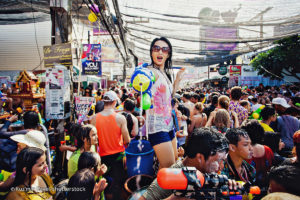 Thai New Year celebrations that begin on the 13th of April every year. Koh Samui is the perfect destination to celebrate. People are encouraged to throw water on each other, and it often becomes a nationwide free-for-all! The origins of Thai New Year combine Buddhist beliefs, ancient astrology, and the solar calendar. Songkran means the shift of the sun from one side of the zodiac to the other.
Chaweng & Lamai Beaches have big street parties, though you will find the whole island out on the streets playing with water.
Of course it is a busy time for us here at Koh Samui Events lots of weddings events and villa parties with DJ's Simon and Jessi having 3 gigs on the day but they still managed to find some time during the day to have a bit of a splash!